Development and commercialization
of a complete compostable
film packaging system
Only 14% of the 78 mln tonnes of plastics produced/year is recycled, the remaining part becomes leakage (32%), is landfilled (40%), goes to incineration/energy recovery (14%).

For this reason, the plastic pollution is a growing problem that humanity has to face.
Is it possible to cope with plastic pollution while maintaining an equivalent performance level for cling films?
The answer is: YES
Together with an improvement in our recycling chain and systems, compostable plastics are a useful environment-friendly strategy to deal with this issue.
Within the framework of the Horizon 2020 Research and Innovation Programme, the EU-funded "Nature Fresh" project has a precise and competitive response to this need.
Global leader in fresh food packaging solutions, Fabbri Group carried out this project together with three European partners Espera, Teixpac and CTME to develop a complete compostable packaging solution for the fresh food packaging market (meats, fish, dairy, fruit and vegetables).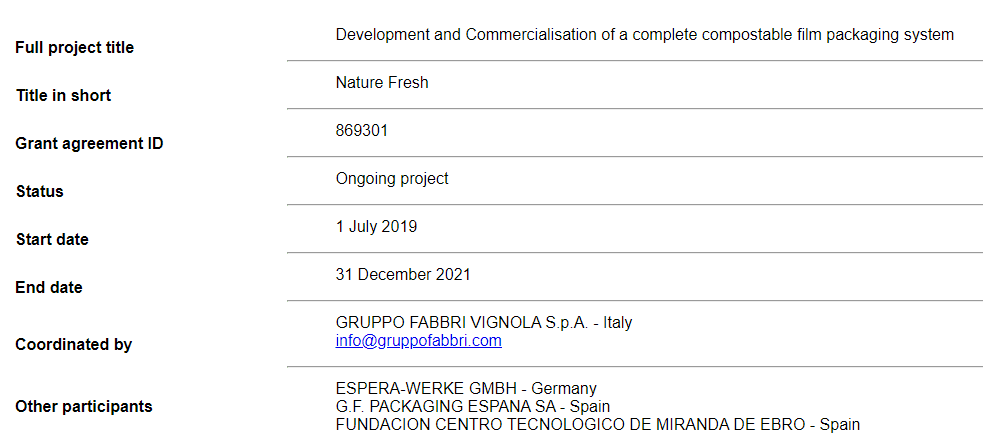 Targeting Retailers and Food Processors, the Project aims to develop and commercialize a new sustainable automatic packaging solution by mid-2022 including: a 100% compostable food packaging film with required mechanical, optical and permeability properties for automatic applications, 2 automatic wrapping machines (one to be operated in a food processor industrial environment, the other in retail back-stores), a 100% compostable label as well as the adhesive and the label application system/machine, all of them being able to work with compostable trays.
Browse this website and discover background, contents and developers characterizing the innovative Nature Fresh packaging system.
THE CONSORTIUM
Leader of the Nature Fresh project is Fabbri Group, that develops and promotes the new packaging solution in co-operation with 3 other European partners as follows